About us
How We Started and What Inspires Us!
Travel is our passion, and our fascination with the beauty our country has to offer and the extraordinary skills of our people inspired us to embark on an adventure we deeply believe in and that will uncover an image of Croatia you have never seen before.
All people share the same desire to discover, travel, move, dance, and play. The desire to experience new cultures, to investigate and to love. Little is needed for true happiness, and in order to achieve this, every day you need to do something new, something you have never done before.
"We have travelled extensively, discovered hidden corners of this beautiful planet and seen the most exotic places in the world and then, we concluded that at home, in our own backyard, we have exoticism at every step: the values that we take for granted, the remarkable skills that require a lot of patience and committed work of local people."
Elizabeta & Gordana, Founders of the project Experience Real Croatia
What does Experience Real Croatia represent?
Your allies in exploring the hidden corners and authentic experiences of Croatia
An invitation for individuals who want something more than the usual, who want to see things behind the scene and get to know something that cannot be seen everywhere
An offer of a variety of unforgettable experiences and the opportunity to meet a different Croatia, learn about culture, find friends and experience an adventure of a life time
And all this on the Internet platform that aims to cover all the precious and wonderful things that exist in this amazing and colourful little country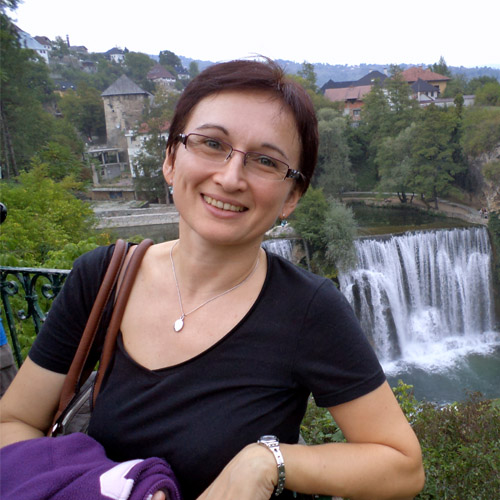 Elizabeta about Gordana...
Gordana is a bookworm, a connoisseur of literature and art. She loves dancing, nature and travelling to distant places. She is calm, meticulous, sensible, wise, agile, skilful and diligent. She is the one who can pull back to earth those who fly to the sky in a cloud of imagination.
On the other hand, she is analytical, fearless, resourceful, and serious, surprising all with her extremely lively sense of humour. She has a great eye for special, rare and valuable people.
A determined optimist with extraordinary listening skills and the ability to confront any problem that stands on the path to success.
If you want to engage in a challenging table tennis match or embark on an exciting adventure, Goga is the person you need to contact :)
...and Gordana about Elizabeta
Elizabeta is an unbeatable optimist, full of various useful and useless ideas. A creator who sometimes has difficultly translating into words what is happening in her "child's head". Always good-natured, smiling from early morning hours, full of energy and (almost) never tired, even though she's been on the go all day.
Her favourites include: Citroën 2CV cars, getting lost at a new location, learning a new language, dialect or skill like crochet for instance, for which she has never had the patience. In love with love, a romantic soul and crazy for spring puddles.
She is a big curious child who believes in angels. An inquisitive child, but very serious and responsible, always motivated to work.
In her free time, she writes a blog, reads books and experiments with new workshops that you can find on this site :)
Let's start from what we know best – Podravina, but the sky is our only limit! Our goal is to cover and discover the whole of Croatia and its many interesting attractions!
You can ask the team Experience Real Croatia anything, we will be happy to help you find an experience that suits your preferences. We hope you find in this chest of Croatian treasures the real gems of experience.
But if you do not find what you are looking for on our site, do not worry, we will turn each and every stone to find exactly what your heart desires. The only thing we ask you is to let us know and share with us your wishes.
Support Our Project